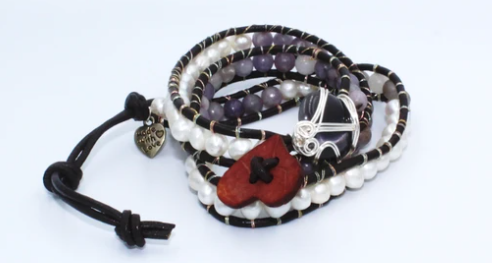 All About the Bracelet, Baby …Wrap Bracelet, that is!
The bracelet has long been a fashion staple. The bracelet dates back thousands of years. We have progressed significantly since individuals began adorning their arms with bone and wood. The wrap bracelet is a blending of leather and natural stone that is intended to wind around the wrist a few times. This statement piece has been twirling down the runways in recent years.
If you are searching for something striking and colorful to spruce up an outfit or wanting to add a little edge to compliment your ensemble, one of Jena's wrap bracelets might be exactly what you are looking for. We have a variety of warp bracelets – Boho chic, beaded, stones, and leather.
Play around with various materials, sizes, and shapes, that is the fun part of the creative process. They can continually grow with you as switch up your style, whether you want to flaunt seed beads, gemstones, wood, or leathery vibes.
Gemstones
| | |
| --- | --- |
| Every natural gemstone is accompanied by its specific healing properties that one can precisely coordinate with their unique requirements. Natural gemstone jewelry can have amazing effects and be exquisitely beautiful. | |
The Hematite Heart with Gold Seed Beads Wrap Bracelet is the perfect piece for those needing grounding and centering. Hematite focuses on the body and aids in reducing stress and anxiety. Use hematite to connect to your root chakra so that you can stay grounded and just be. Jasper provides protection and absorbs negative energy, balancing the yin and yang. It supports during prolonged illness and re-energizes the body.
Leather
 

Leather can provide an edgy style to pretty much any outfit, and wrap bracelets with beads are especially in demand. This Leather Wrapped Mother of Pearl Bracelet mixes narrow leather strips with mother of pearl beads and blue swirl glass beads and a wooden heart button as a clasp is sure to make a statement.
Wire
| | |
| --- | --- |
| There is a trend emerging as designers are ditching traditional leather and opting for wire as a wat to create gorgeous arm candy. This wrap bracelet, Wire Wrapped Green Moss Agate, is made with mixed base metals, silver-plated rings, moss green agate beads, antique glass beads, and amber crystals. The beads and crystals are wrapped in silver wrapping wire and secured with a magnetic clasp. | |
Natural gemstone and wire wrap bracelets are a brilliant gift idea for that fabulous somebody in your life. Head over to jena-jewelry.com to check out our full selection of affordable wrap bracelets today!