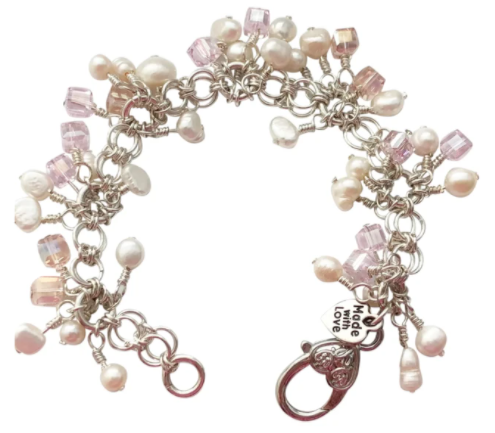 The Art of Making Chainmaille Jewelry
Archaic metalworkers found that a massive amount of small metal rings interlocked together created a non-piercing, super light armor. This front-line development, widely known as chainmaille, shielded knight from blades, knives, and arrows. Now, in the current day, interest in middle age protection has faded while the desire for fashionable and unique jewelry has skyrocketed. A similar work fabrication that protected the lives of past warriors is presently stylish for pieces of jewelry – bracelets, earrings, and necklaces. You know what else? Many chainmaille pieces are easy to make!
How to Create Chainmaille Design
| | |
| --- | --- |
| Chainmaille offers unlimited opportunities for ingenious designs. The only limitations are those that the designer places on themselves. Chainmaille is not intended for large scale manufacturing, as each handcrafted piece takes numerous hours to create and is characteristically unique. An innovative jewelry designer can accumulate a substantial assortment of distinctive designs if they utilize patience and time appropriately. | |
The European adaptation of chainmaille is the typical style for jewelry in the modern day and where it is widely known for its fundamental 4-in-1 design where each link pattern combines with four additional links. Additionally, the Japanese have made their rendition of chainmaille called Kusari gusoku. Samurai warriors began wearing Kusari centuries ago and did so until the 19th century.
| | |
| --- | --- |
| |  To make chainmaille, the designer will need these essential things: jump rings, an instructional design, pliers, and embellishments that one would like to incorporate into their design. One must utilize the best possible technique when opening a jump ring to abstain from destroying them. |
Proper Technique for Opening Jump Rings
Place a pair of flat-nose pliers and chain-nose pliers on either side of the opening.
Rotate the plier in opposite directions to open the jump ring. (Do not pull outwards to avoid damaging the curve of the jump ring.)
Interlock the jump ring.
Turn the opposing sides into the right position to close the jump ring.
 

Though some jewelry designers choose to make their jump rings, it is wise for the beginner to purchase their jump rings. Jump rings are available in a variety of metals. The amount of tension is determined by the type of metal, which determines how much spring-back the metal has. At the point when a coiled wire is unclasped, it loosens and becomes less tight, this is known as spring-back. Also, be sure to keep extra supplies on hand just in case some jump rings bend, brake, or get lost.
If chainmaille jewelry design seems like a bit too much of an undertaking, check out these gorgeous pieces that Jena Jewelry has created. They are great for any occasion, from everyday wear to a wedding day extravaganza!